DeTax Model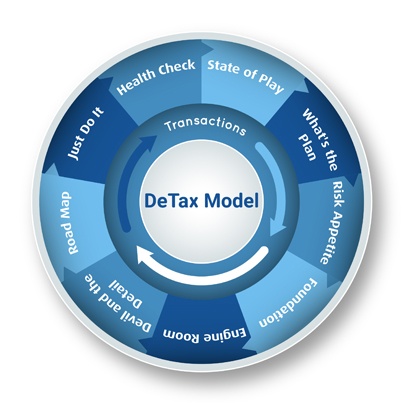 Our DeTax Model is designed to improve your Tax Health:
Are you missing out on tax claims or feel you are paying too much tax?
Do you feel there is too much focus on your historical accounts and tax returns and not enough on providing real value like how you can reduce your tax related costs?
Do you spend too much time complying with your tax obligations?
Do you have nagging doubts that you're not getting the advice you should from your existing advisor?
Do you lie awake at night asking whether there's anything you could be doing to reduce your tax or worrying about IRD auditing you?
If you answered "yes" to any of these questions, your tax health could be improved!
Our proprietary DeTax Model is a systematic, robust approach to reducing your tax related costs and improving your tax health.
We developed the DeTax Model as we became more and more frustrated that tax advice provided to SMEs was ad-hoc, reactively tackling issues one at a time. This unsatisfactory approach doesn't maximise your tax health; it's the same as fixing your broken arm while ignoring that you're bleeding. The DeTax Model is designed to properly diagnose your tax health, identify any risks, take advantage of any opportunities and eliminate your nagging doubts – avoiding the tax equivalent of a heart attack.
To find out more about our DeTax Model, click below to receive a FREE copy of our Special Report.